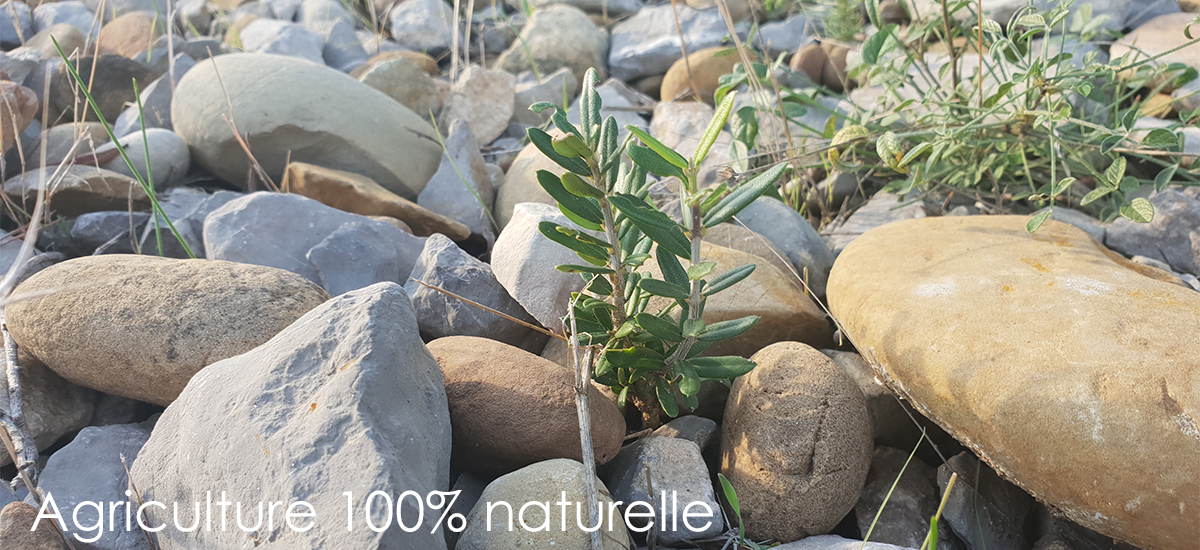 The concept of 100% natural agriculture
 
We're talking about a concept here because unfortunately there's no label to certify this mode of production. To say we produce 100% natural olive oil does not fall within any standardized or legal framework. In summary, sadly it's no worthy label and it does not guarantee any commitment level since the concept is based solely on a producer's good faith and on a relationship of trust between the producer, the distributor and the consumer. But things are evolving and this lacking standard may well become outlined in the future through increased awareness that enables this production method to regain its noble stamp of approval.
 
The most important thing to remember is that pure olive oil is obtained solely with olives. This is why it's a product which at its source is completely natural, obtained only by natural, mechanical processes. The crushing -which consists in creating a paste from the harvested olives- and the pressing -consisting in cold-pressing without any heat or temperature changes- in order to extract the oil from this resulting olive paste, can be done in different ways; but there's no need to intervene with extraneous products or chemicals.
 
Unlike all other vegetable oils (rapeseed, sunflower, grapeseed, nut, almond, etc.) which involve the use of chemical solvents, of high temperature heat… Olive oil is obtained without any additives or manipulation of the fruit. Olive oil is therefore the only oil that can be produced in a 100% natural way without any treatment of the fruit at any stage of its growth on the tree and without any chemical input after harvest. This is the choice we made at Domaine Les Opies: do not add anything to the soil, the trees, the olives or the oil itself. Nothing except water for irrigation, since the South of France experiences increasingly hot summers and although the olive tree can survive a long time without water, it still needs a certain amount in order to produce olives and grow them to maturity.
 
Few olive oils on the market are produced in a 100% natural way. In the Protected Baux-de-Provence Valley Appellation, only Domaine Les Opies produces in this way. We don't know about the rest of France, but it seems very few of us have made this choice. That being said, the olive oils produced in organic farming (label AB, Demeter, Nature&Progrès…) are in principle produced with an extremely limited quantity of chemical treatments, with these treatments moreover being necessarily of natural origin ('Bordeaux mixture,' for example).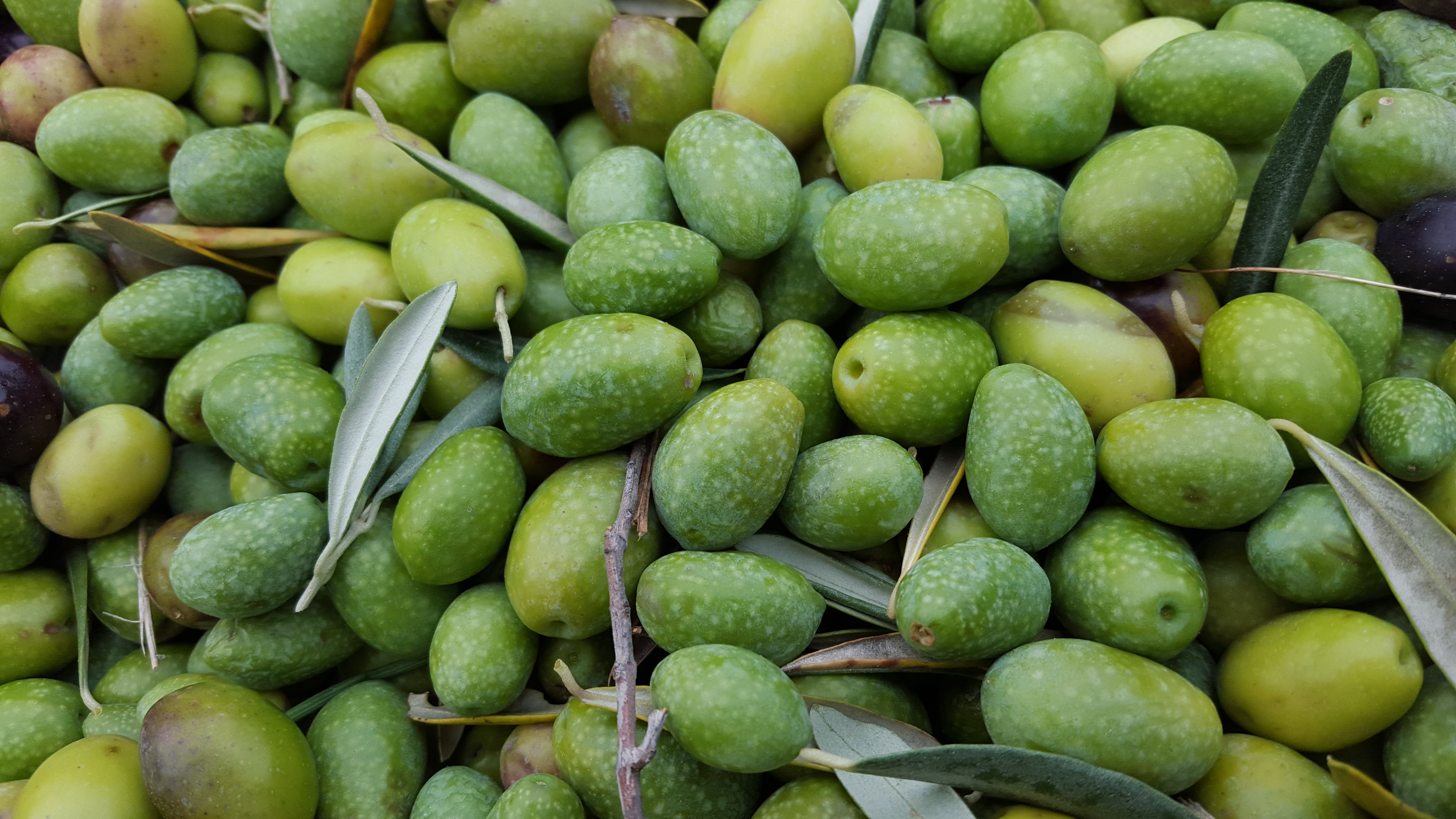 Above left: Close-up of the estate's olives during the 2017 harvest.
Above right: When the Domaine's plots turn into meadows at springtime.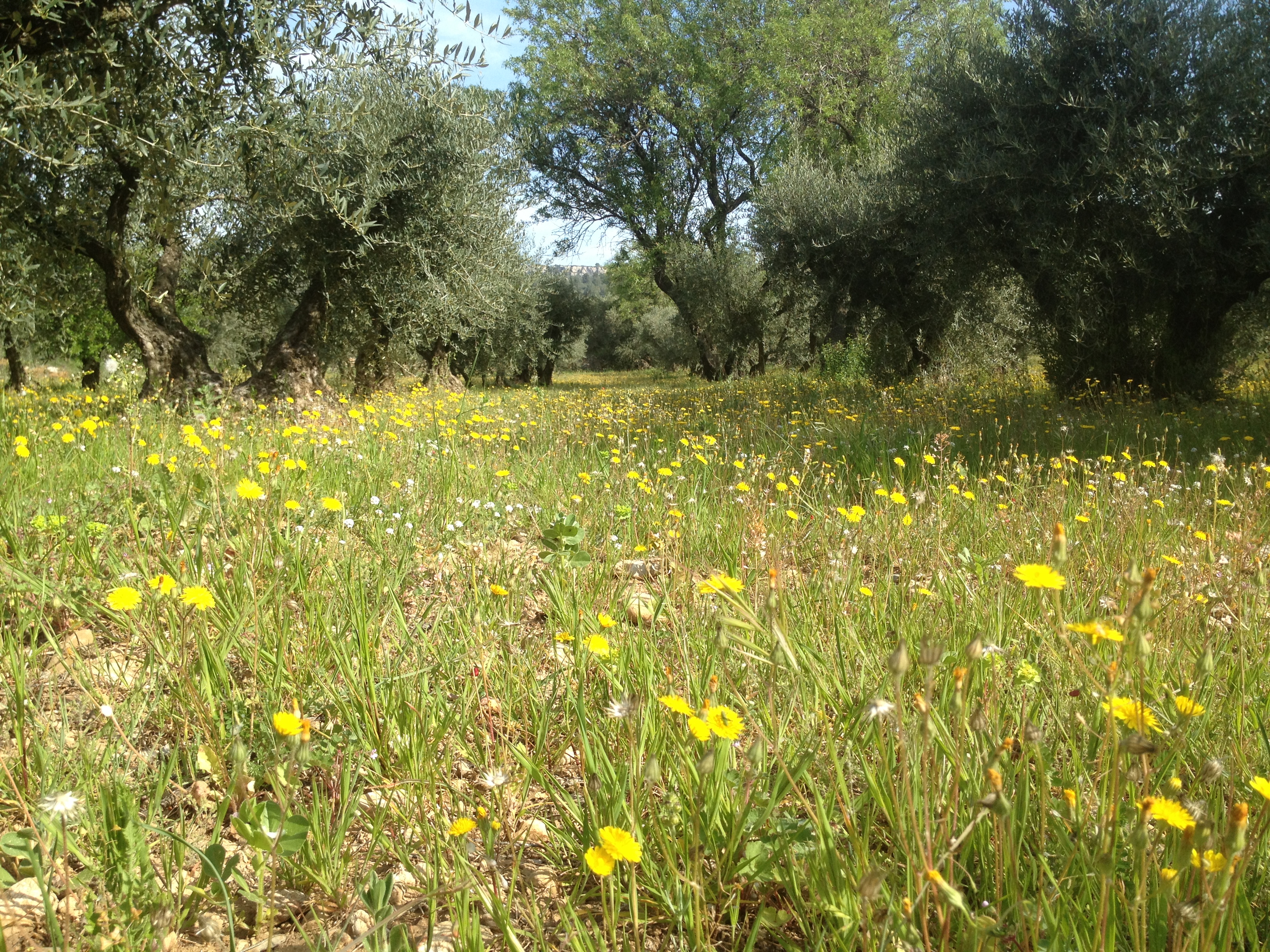 Why produce in a 100% natural way?
 
First of all… because it's possible. Instead of wondering why we should produce 100% naturally, we could easily reverse the question by saying "Why not produce 100% naturally if doing so is possible? ".
 
Furthermore because we consume our own olive oil and because our children consume it as much as we do. It seems inconceivable to us to produce for ourselves, for our children and for all those who consume it or who will consume it, an elaborate oil loaded with pesticides or plastic residues.
 
Without going into any type of ecological fundamentalism, we believe in the virtues of nature and agro-ecology and we believe that a region's very own expression loses its meaning if we modify the product it offers us. Beyond the harmful effect of pesticide products on our health, we are convinced that these also modify the properties, the taste and the aromas of the olive and therefore of its oil.
We could have been content producing with organic farming, but this method and the AB or Ecocert label which best represent it appear to us like an optical illusion which is best to be wary of; Opies' oil would not be so highly categorized in this kind of agriculture.
As we can read in 'Pesticides In Organic Farming: An Inconvenient Truth'… "The idea to remember is that organic farming does indeed use pesticides, and that they're not particularly harmless compared to synthetic pesticides used in conventional farming. Specifically, their natural character is not a guarantee of safety. "
 
Finally, we firmly believe that it is possible to create a profitable agricultural enterprise without resorting to pesticide products.
 
The 100% natural view by Le Domaine Les Opies
 
* Plots selected according to their location, specifically sheltered away from any chemical sprays.
* Zero pesticides, zero herbicides, zero fungicides, zero fertilizers
* No synthetic chemical treatments, neither on the ground, nor on the trees, nor on the fruits, nor in the oil.
* No chemical treatments of natural origin authorized in organic farming…
To summarize… Nothing